Project BlockchainZ
[BzLog 5]: How to kill zombies cooler? It's Bullet Time!
---
Why Bullet Time is your best choice to survive?
Have you ever felt alone in the middle of the battle, desperate to survive against a massive horde of zombies? Us too. And that's why we are so glad to introduce you the Bullet Time skill, an abbility really useful once you need more time to kill your enemies.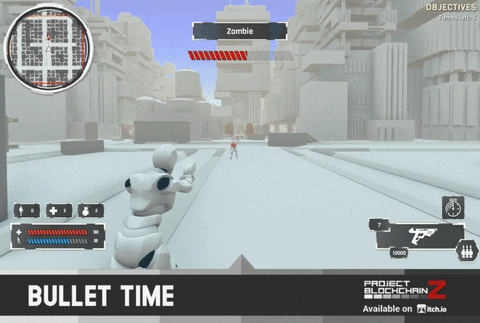 Just imagine for one second how funny could be to freeze the time for a while and see these horrible enemies rushing over you in slow motion. That gives you a break to choose the best response. Lots of situation could happen then. You could kill more zombies, or find a way out, give orders to your troops in order to take a huge advantage on the battle. Also, it looks pretty cool to kill zombies in slow motion.
Bullet Time improvements
Fixed duration (we're thinking about the possibility to last more depending on the player's level experience ).
Bullet Time cooldown reduced.
Time skills (Doesn't use stamina).
Improved SFX feedback.
New camera effect for feedback
Much Better aiming while using the shotgun.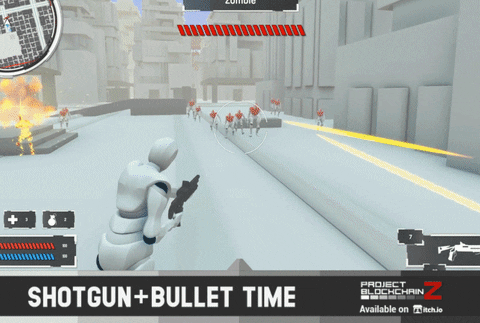 Take advantage of the Bullet Time and the new shotgun. It looks amazing while killing a lot of zombies. Just try it!
We will talk about other kind of weapons in our Discord Server. Join us!

Files
Project BlockChainZ [Concept Game]
237 MB
Feb 08, 2019
[Old] Project BlokChainZ MAC 1.0.1b_h1
332 MB
Feb 08, 2019
Comments
Log in with itch.io to leave a comment.
A lil' bit Matrix, but I like it lol

Yeah! Those shots look great!
I really like this mode, it's better with cooldown system and the feeling is cool.