Project BlockchainZ
[BzPatch 1]: Fresh news! Patch notes 1.0.1b_h1
---
Hey everybody!
We're working on more meaningful additions, so here's Patch 1.0.1b! The update is ready for you! We are introducing a new kind of raider, bigger and more powerful, who uses a shotgun (Let us know if you like it). We also add some improvements in the Bullet Time skill, which we'll explain you with lots of details in the next week devlog. Besides, a new weapon is at player's disposal, The shotgun: Ready to kill zombies without remorse. Also a big optimization that allow us to put more Units at the same time: 100 to 300.
[UPDATE] Some bugs were found, we have launched a hotfix 1.0.1b_h1 The hotfix notes are in the changes list.
Additionally we are still working on the story. We'll show you very soon more info about concepts and who are the factions and what we finally decided about the zombie idea. We are discussing it on our Discord Server, and you are invited to participate.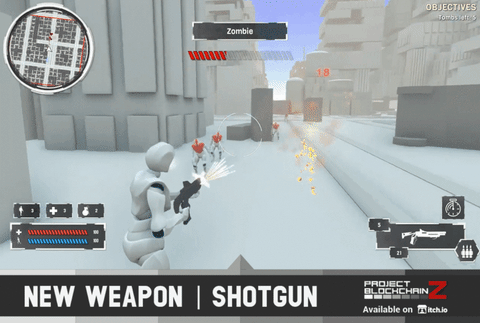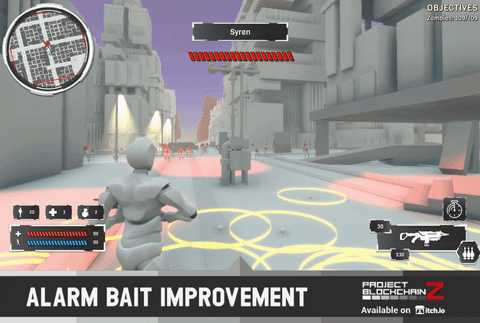 Patch Notes
New weapon included: shotgun.
New Raider with a shotgun.
Big optimization that allows more units on screen at the same time, from 100 to 300.
Movement of enemies improved (Improved pathfindings).
Response time and physicis now uses less resources.
New mini map icon for zombies.
Adjusted win time to concentrate action in more fast paced battles.
Modified alarm bait duration to make it more usable.
Changed Bullet Time, now it's a time based skills instead a stamina one.
Now you can choose whether the soldiers in the bunker come to help you or not.
Now you can choose the initial weapon when you start the battle.
Some aesthetic improvements in the text boards.
New Feedback when the alarm bait is activated.
New Feedback while Bullet Time.
Increased player jump height.
New Feedback when you are reloading ammo with the Ammo Box.
Raiders Supply Depot always have bandits inside.
AI units identify the Ammo Box as an obstacle.
Bug fixes.
Hotfix 1.0.1b_h1 notes:

Fixed a Problem with the aggro system, now the enemies attack the alarms and the barricades instead of attacking the player.
Fixed a Problem with the shotgun that hits once or twice instead all the bullets.
Balanced the challenge level to make it more interesting.
Added and advice when the game is going to end.
Fixed that in MacOs the Alarm and the barricade were invisible.
Fixed, the soldier now avoid the ammo boxes correctly

… and much more in future patches!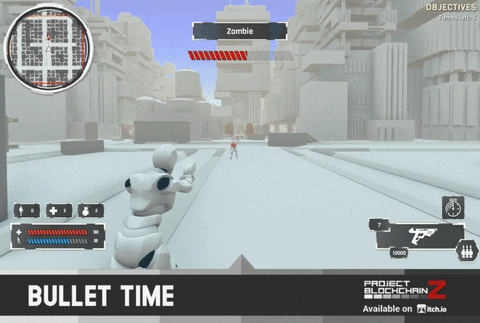 We will continue working on new improvements and patches, and will be glad to know any feedback or suggestions you have. Don't forget to join us on Discord!

Thank you all for the support, it's really useful. Hope you enjoy the new patch and have fun!
Project BlockChainZ Team.
Files
Project BlockChainZ [Concept Game]
237 MB
Feb 08, 2019
[Old] Project BlokChainZ MAC 1.0.1b_h1
332 MB
Feb 08, 2019